De-institutionalizing culture and environments to create a habitat where life is worth living
The Eden Alternative Philosophy is about transforming our perceptions and nursing-care facilities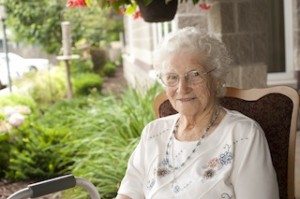 to reflect an environment of living as a habitat for humans instead of an institution of frailty and waiting. This philosophy drives all we do at West Ridge, from our rehabilitation care to our long-term, assisted living care to our short-term, skilled care. This Principal-centered philosophy for culture change provides a new way of thinking and developed a unique language to help organizations in their culture change journey. In the Eden Alternative we believe that words make worlds. We define Elders as someone who, by virtue of life experience, is here to teach us. By definition, being an Elder has little to do with age. The benefits of implementing this philosophy in our living structure at West Ridge results in a vibrant life worth living.
The West Ridge and Eden Alternative Philosophy of Care
West Ridge's atmosphere of acceptance emphasizes respect for Elders' dignity and privacy. West Ridge adheres to the Principals and Philosophies of the Eden Alternative, continuously striving to make West Ridge a home where life and spontaneity are a part of every day. Each person that joins the West Ridge family, whether an Elder, family member, staff or volunteer, has the opportunity to grow, contribute to their surroundings and be well-known by others who are part of this community. It means we become a family.
In part, the mission statement for Eden Alternative states: "The core concept of the Eden Alternative is strikingly simple. We must teach ourselves to see nursing homes as habitats for human beings rather than institutions for the frail and elderly. We must learn what Mother Nature has to teach us about the creation of vibrant, vigorous habitats." As the only registered Eden Alternative facility in the Cedar Rapids area, our practices strive to eliminate the three plagues that tend to affect long-term care– loneliness, helplessness, and boredom.
The Ten Principles of the Eden Alternative
Understands that loneliness, helplessness and boredom account for the bulk of the suffering among our frail Elders.
Commits itself to surrendering the institutional point of view and adopts the Human Habitat model which makes pets, plants and children the axis around which daily life turns.
Provides easy access to companionship by promoting close and continuing contact between the elements of the Human Habitat and the people who live and work within it.
Creates opportunities to give as well as receive care by promoting our Elders' participation in the daily round of activities that are necessary to maintain the Human Habitat.
Imbues daily life with variety and spontaneity by creating an environment in which unexpected and unpredictable interactions and happenings can take place.
De-emphasizes the programmed activities approach to life and devotes these resources to the maintenance and growth of the Human Habitat.
De-emphasizes the role of prescription drugs in our Elders' daily life and commits these resources to the maintenance and growth of the Human Habitat.
De-emphasizes top-down bureaucratic authority in the facility and seeks instead to place the maximum possible decision-making authority in the hands of those closest to those for whom we care.
Understands that Edenizing is a never-ending process, NOT a program and that the Human Habitat, once created, should be helped to grow and develop like any other living thing.
Is blessed with leadership that places the need to improve resident quality of life over and above the inevitable objections to change. Leadership is the lifeblood of the Edenizing process and for it there is no substitute.
What is the Eden Alternative Registry?
As a way of honoring those who would undertake the hard work of transforming their institutions into warm, Human Habitats, The Eden Alternative maintains the Eden Registry. The Registry is simply a public commitment to strive for the Principles and Practices of the Eden Alternative. Elders and families must still make every effort to ensure that their needs can be met by the organization and work hard to build a relationship with the staff of the home. Please understand that The Eden Alternative has no operational control over any long-term care facilities. Our work is delegated to providing education and resources, not monitoring. We feel it is important, however, to honor those who would make a commitment to strive for a human community that supports the growth of all.
The Eden Registry is patterned after The Scouts. Registered Homes are agreeing to abide by the Eden Principles, and to work toward creating a better world. So, just like the Scouts, you will find Eden Homes at all different stages of the process. That doesn't mean one is better than another, just at a different point. The important thing to remember is that the organization made a commitment to strive for a better way and that Eden is a never-ending journey.