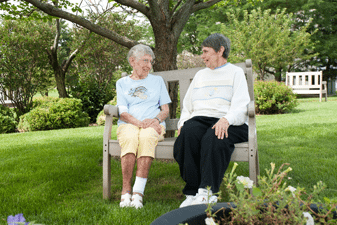 Alzheimer's Care, Dementia Care & Memory Care
Elders living with Alzheimer's and other types of dementia often require a different level of care and a higher degree of supervision than our other residents. Our specialized memory care unit at West Ridge, known as The Garden, is one of the first free-standing care facilities in Iowa specifically designed for the care and treatment of Elders with dementia. It allows our memory care residents to walk about freely in a safe, secured environment surrounded by the beauty of nature.
Dementia Care Environment
The Garden, our CCDI unit (Chronic Confusion & Dementing Illness Unit), has a peaceful, enclosed courtyard filled with planters, bird feeders, water fountains and seating. The unique floor plan encourages social interaction and allows freedom for Alzheimer's and dementia care patients to walk about safely.
Following the Eden Alternative philosophy, The Garden is blossoming with plants and flowers creating a vibrant human habitat for living. The songs of birds and the beauty of green growing plants help eliminate the plagues that can sometimes affect elders with dementia. By offering this simple but important aspect of our care facility, our elders are able to experience a more active and independent living situation.
The Eden Alternative Philosophy and "Living with Dignity" ensures the same care is available to our patients in The Garden as in the rest of the facility, with the additional precautions of security and safety.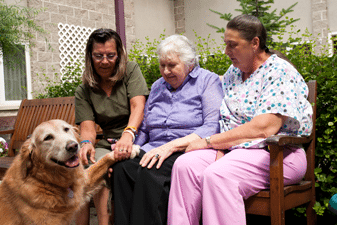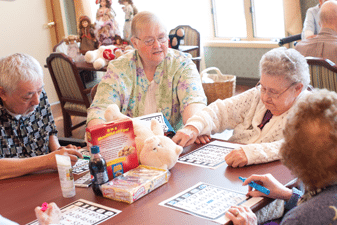 Daily Life at The Garden
Our daily routine and happenings increase our residents' sense of freedom and independence. It is important that each patient feels successful, cared for and productive in this long-term care setting to implement the Eden Alternative we strongly embrace.
Our care partners encourage Alzheimer's and dementia care patients to make their own choices in regards to meals, clothing and participation. Therapeutic programs focus on patients' medical, physical, social, cultural, emotional, behavioral and spiritual needs in a compassionate and structured environment. Personal care and emotional support is provided to our elders 24 hours a day.
With our knowledgeable staff and relationships with area hospice programs, we provide care to create peace of mind and a place to call "home."